WELCOME TO BUSHTOWN HERITAGE SITE
in Waimate, South Canterbury
Bushtown Heritage Site is a window into the last 150 years of bushman and early settler communities of Te Waimatemate

The site is a visitor attraction recreating the mighty Tōtara tree forest, showcasing life of the era through bushman's huts and early Edwardian township "Main Street", a working steam operated vintage sawmill and a miniature steam train rail under development



CANCELLATION OF BUSHTOWN STEAM UP DAY 2022
Hi friends of Bushtown, we are very sorry to share that due to the government Red Light Alert Level changes we are unable to continue with our planned Steam Up 2022 event and have made the incredibly difficult decision to cancel this year.
Thank you to all of our volunteers and supporters who have put in so much effort towards this event, we are so grateful for your time and energy ... and thank you to all the friends of Bushtown, we do hope to see you sometime soon!
We look forward to seeing you all in March next year for Steam Up 2023
For anyone wanting to arrange a private tour of the Bushtown Site (we are still able to cater to small numbers and groups), or to plant a Tōtara Tree - please feel free to email our committee bushtown.waimate@gmail.com
STEP BACK IN TIME TO THE BUSHMAN'S ERA
Heritage Tōtara Forest Planting
The mighty Tōtara was a prized species for the early European bushman who settled in Waimate in the mid 1800's. They were drawn to the area due to the abundance of Tōtara timber available for the development of settlements and infrastructure in the surrounding regions.

The Tōtara lumber sourced from the Waimate area quickly gained a reputation for quality and was often shipped to many parts of New Zealand as well as overseas.

The Bushtown Heritage Forest Project sets out to recreate the mighty Tōtara forest that once adorned the Waimate District landscape. Individuals, families, interest groups or companies now have the opportunity to participate in this project by planting their own commemorative Tōtara tree on designated areas within the Bushtown Heritage Park.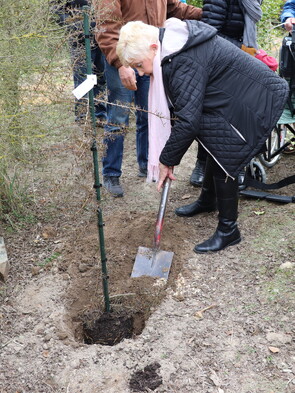 PLANT YOUR OWN TŌTARA TREE
Check out a fly over of Steam Up Day 2021!